* From 1. – 15. February 2021 * A 15-day-journey into the sacred land of the Maya, Yucatan, Mexico *
* Soul Expansion – Mexico Adventure – Yucatan 2021 *

Our soul, like a seed, bears in itself all the information that wants to unfold in our lifetimes.
With it, we have brought the divine potential with us to be creators of our reality and to manifest our true essence here on Earth. Our heart is the vibratory field that expresses our soul's energy, and when we resonate positvely with our surrounding, this field opens up and expands. Following our call to a particular place on this planet, gives us the opportunity to remember, reconnect and integrate what we have forgotten from many lifetimes ago. Through a deep connection to nature and yourself, I invite you on this journey to experience your soul's expansion, remembering your abilities and purpose and unfold your spirit's full potential!
In ceremonies at sacred pyramid sites and ancient powerplaces, we connect with the high frequency energy of the Mayans as Starpeople and thus create a bridge to the cosmos, the spiritual world and our multidimensionality. In magical surroundings such as the deep blue cenotes and dark caves, we come into close contact with our innermost aswell as inner earth and open ourselves to the wisdom of our ancestors and mother Gaia. The beauty of the Yucatan, with its bright colors – the lush green jungle, the turquoise ocean, the colourfull, delicious fruit and the tropical climate – is also reflected in the vivacious and open-minded mentality of the Mexicans. People and nature create a heart opening that helps us to regain our ease and experience deep grounding and connection in nature. Like the Tree of Life, we will strengthen our roots, centre and branches, to expand all aspects of our being !

As part of the group, our heart and soul family, we have the opportunity of growing in reciprocity with each other and through potentiating our shared energies, experience magical moments, deep connections, amazing transformations and wonderful adventures together.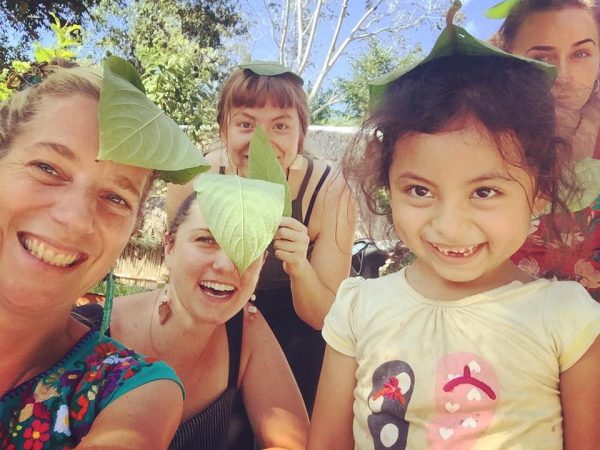 Program of the Journey (subject to change)
1. Arrival & Transfer – From Cancun to Izamal
I pick you up at Cancun Airport and together we drive to the Magical City of Izamal (about 3 hours drive), where we will stay most of the journey. At our beautiful hotel Macanche we get to know each other over dinner and spend our first night in the tropical paradise Mexico. Our hotel, the Macanche, is beautifully situated with its tropical garden and swimming pool, and the hotel manager Miguel, who embodies the heart of the hotel, will make us feel at home instantly.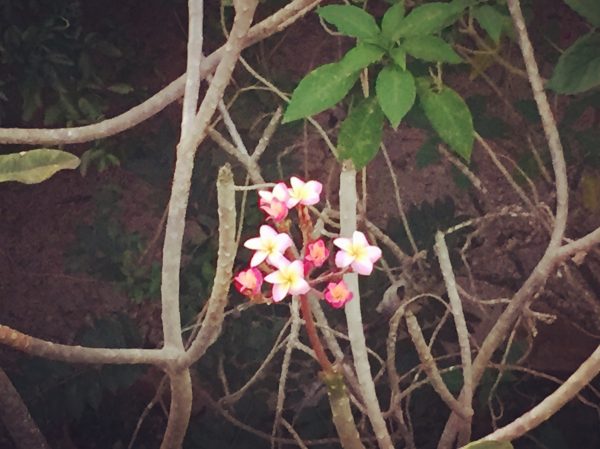 2. Welcome Ceremony – Izamal
We begin the journey with a welcome ceremony, where we connect with the earth of Yucatan and its magical powers, and for our root chakra to receive grounding so that our deepest patterns can come into healing. In the ceremony we are cleansed and open our heart field for the transformation that awaits us on this journey.
In the afternoon we have time to explore the "Magical City" Izamal, which was founded by the healer-priest Itzamna and still has many well-preserved pyramid sites. This is why Izamal is also called the "Magical City", because the heart and healing vibrations are particularly high here, which can be seen especially in the happy and heart-touching people of Izamal.
3. Archeological Site Chichen Itza
Chichen Itza is perhaps the most famous of all Mayan sites. It was declared a UNESCO World Heritage Site in 1988, and its temples embody the power of the sacred masculin. Between the 8th and 13th centuries, this was the central city of the Itza, the then most influential Mayan group in Yucatan. In addition to visiting the most important buildings here, we have the opportunity to meditate on the energy of the famous pyramid of Kukulkan and to buy handicrafts and stones from the numerous artesanos in the region. On the way back, we take a delicious meal in Yokdzonot's restaurant, run by a women's cooperative, and those in need of a dip may like to jump into the beautiful open cenote waters next to the restaurant!
4. Temazcal, the Sweat Lodge Ceremony
Today we visit Maria Christina's ceremonial site. She invites us into her temazcal, the sweat lodge. In a traditional Mayan ceremony we connect with our ancestors, the goddess Ixchel and our own birth. Everything negative can be cleansed and transformed in this ceremony, because in the darkness and heat of the Temazcal we have the opportunity to let go of old limitations, fears and diseases, to integrate the powerful energies of our ancestors and to return to life reborn.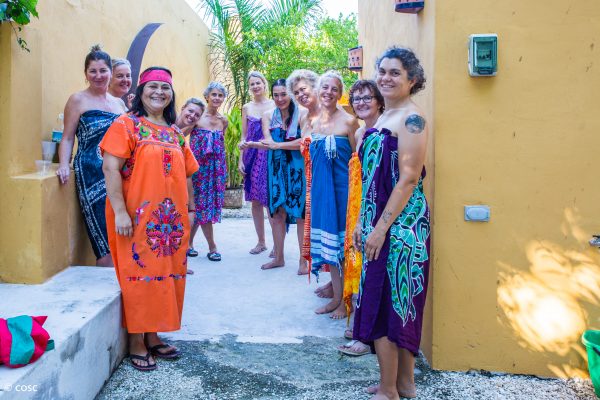 5. Pyramid site Ek Balam & Cenotes Aguas Dulce
Today we drive to the beautiful colonial city of Valladolid with its pyramid site Ek Balam, which translated means Jaguar Star. The jaguar is a sacred symbol of the Maya and embodies royalty and power. It is also connected to the underworld and the night and represents femininity and the shaman. The ruins of Ek Balam are especially well preserved and there is a beautiful tree of life there with which we will connect and meditate. We will take our time to explore this temple complex and after a probably hot day we will visit the beautiful Cenotes of Aguas Dulce (Cenotes are the sacred entrances to Xibalba, the Mayan underworld and swimming in them feels like bathing in the womb of the earth), where we can once again dive deep into the underworld.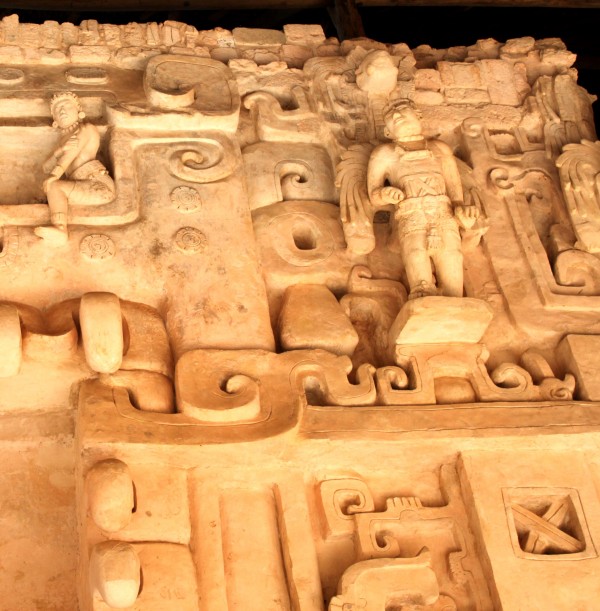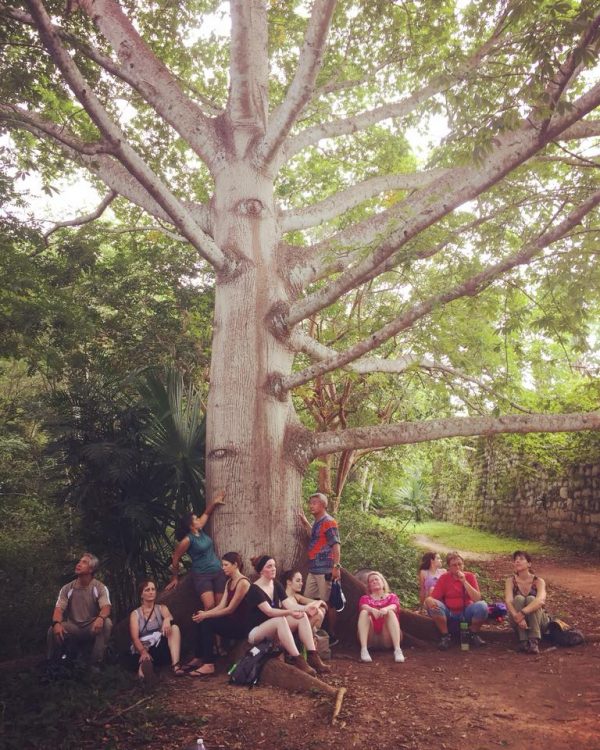 6. Merida – Colonial City and traditional Market
We spend the day in Merida, the capital of Yucatan, with its metropolitan flair and splendid colonial buildings. We stroll through the local market and I'll show you where to get the best ceremonial dresses. We enjoy the colorful diversity of the city and end the evening with a delicious meal in one of Merida's traditional restaurants.

7. Free day to integrate and relax
This day is free to relax and integrate what you have experienced so far, to visit the pyramids of Izamal and meditate there, to have a healing session or to relax at the pool of the hotel! If you would like to receive a healing session, massage or fertility treatment, today is the right time for it. Experiences shows that it makes sense at this point in your process to be supported by energetic work. There are different healers available who can work with you if you wish.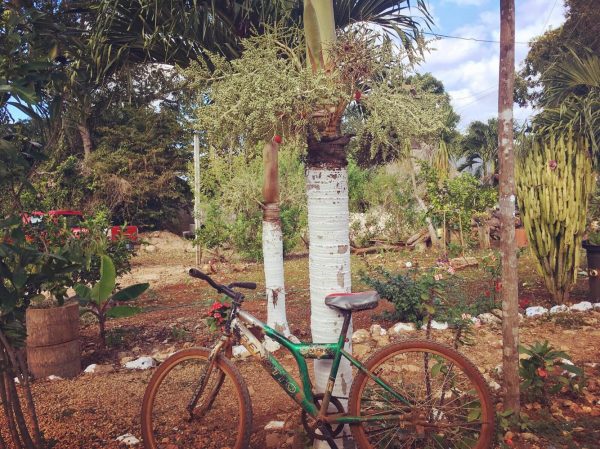 8. Uxmal – Archeological Site
Today we embark on the energy of the sacred feminine and travel to the archeological site of Uxmal, which was a centre of initiation for Mayan priestesses. Here they studied the secrets of divine conception and tantric union. This place gives us the opportunity to connect with our divine femininity and get in contact with the wisdom of the "Sage" within us. The stones of the pyramids are sacred "libraries" that store old knowledge and pass it on to us when we meditate and connect with them.
9. Visiting the Ruta Puuc – Labna, Sayil, Kabah
Today we visit three of the main pyramids of the "Ruta Puuc", which was named after the hilly and very fertile landscape. These rather small pyramid sites are real gems, as they are rarely visited by tourists and are extremely interesting and well-preserved, with beautiful nature and beautiful trees that are still very much present as old guardians of these holy places. In Kabah, with its gigantic masked wall, dedicated to the rain god Chaak, we will receive information from  on the life and work of the Mayans and their cosmic knowledge and spirituality! We will connect with the fertility of the area and the different fertility symbols at the pyramid sites, and ask for blessings for our own abundance and vitality in a small ceremony.
10. Stalactite-Quartz-Caves, Oxcutzcab
Today the journey takes us to the stunning stalactite caves in the area of the Ruta Puuc, which means "hilly landscape". Hidden underneath this fertile and hilly land are incredible cenotes and caves. These caves, some of them still uncovered, hold unbelievable treasures of the mineral world, which connect us to very ancient knowledge and lead us into the depths of our crystalline Cell-Memory. With our guide Pablo, we have the opportunity to explore the cave system to take in the beauty of the stalactite-filled caves. In a magical meditation and cleasing, we will connect with the realm of the stalactite gems and open our hearts to the messages of the mineral world. The entire caves are covered with calcite quartz, so we are surrounded by them and can fully immerse ourselves in their energy.
! This tour can only be tackled with sturdy shoes, suitable clothing and a good state of health. A great adventure, which is a bit exhausting, but totally worth it!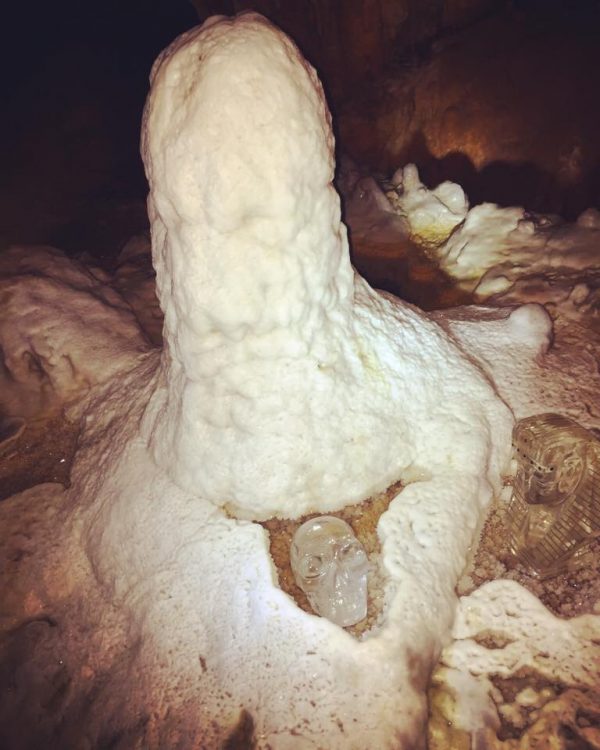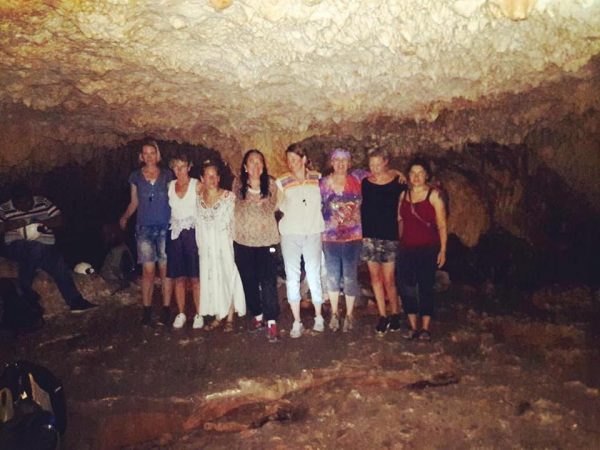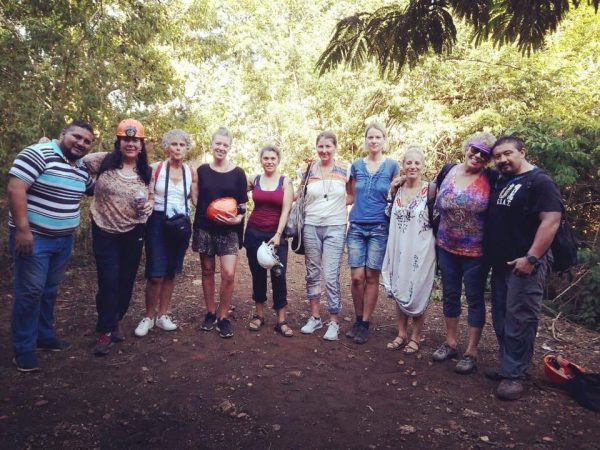 11. Hidden Pyramids in the jungle
Our guide Pablo will lead us to two hidden pyramid sites in the jungle today, where no tourists usually go. The sites do not even have a name, but contain many wonderful treasures that we can freely explore. Pablo will talk to us about the Mayans and their lifes in this natural and remote environment and show us ancient ceramics. In a special energetic place, we will hold a ceremony and then join the family of the farmer, on whose land the pyramids are bordering, to dine together and gain insights into how the traditional Mayans still live today.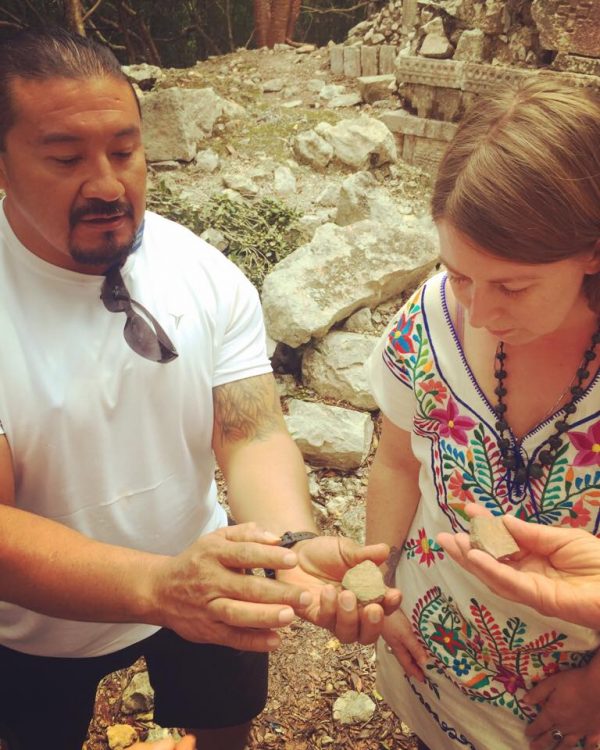 12. Free day & sunset meditation on the pyramid Kinich Kakmoo
After returning from our short trip, today will be at your leisure. For those who wish: Shortly before sunset, we will meet at the pyramid Kinich Kakmoo, one of the largest pyramids, not only Izamals, but the whole of Mexico. It is dedicated to the sun god Kinich Ahau, and at sunset, we can connect here with his life-sustaining energy. We can meditate on the pyramid, which is normally closed at this time of day and which we now have completely to ourselves.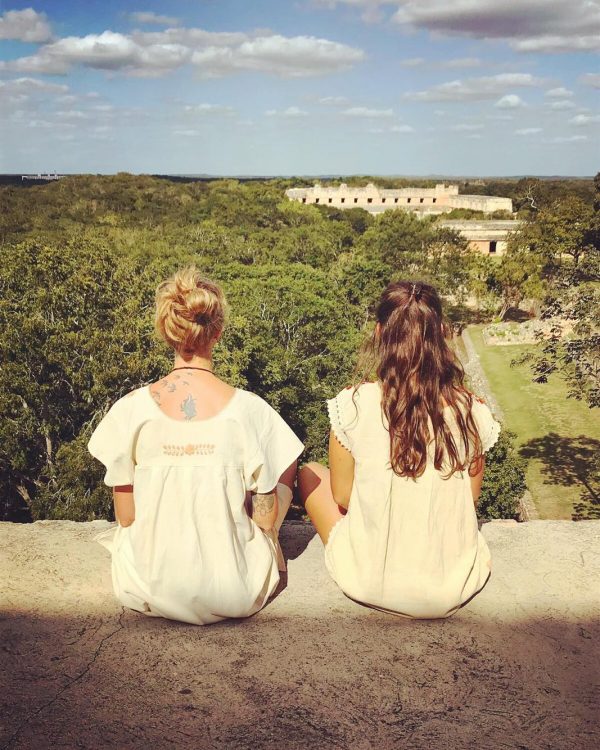 13. Medicinal plants & Maya ceremony, botanical garden & Sacral Chakra Healing Ritual
In her beautiful botanical garden, the medicinal plant physician Zully Patron awaits us with a Mayan ceremony in which she introduces us to the native gods and plant devas and her personal work with the plants and their effects.
In the afternoon we gather for a sacral chakra healing ceremony, which is performed by a wonderful and light-filled priestess. Let yourself be surprised by what magical healing this special moment holds for you!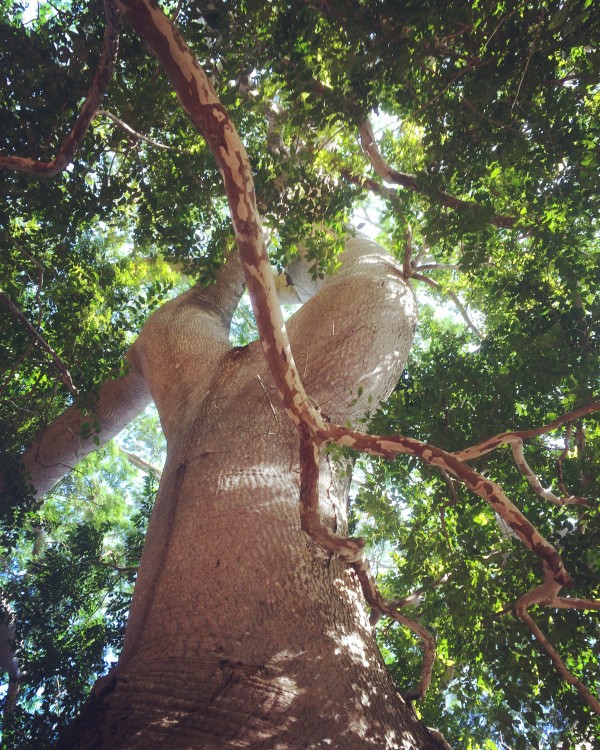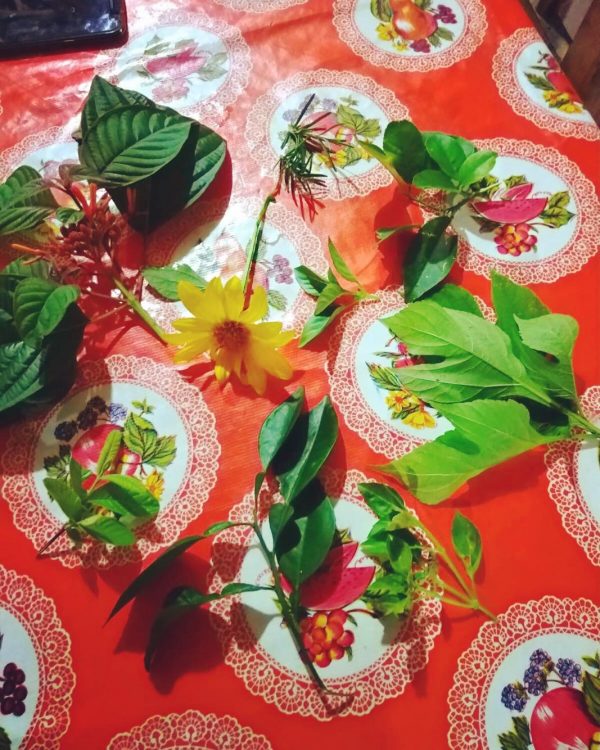 14. Completion Ceremony in a Cenote
In a beautiful final ceremony by the water we will connect with the life-giving, flowing and creative parts within ourselves and bathe in a magical, open cenote, in the middle of wild nature. Here we can ask for a vision of our future doings and receive blessings for the further unfolding of our soul's mission. In the afternoon we come together in a final circle to share our impressions and experiences to roundup the journey.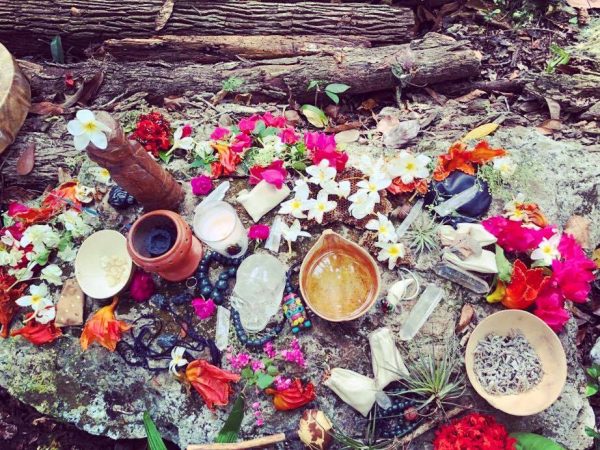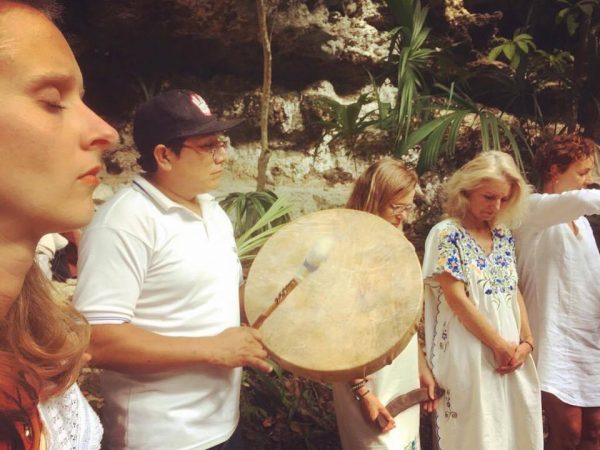 15. Departure from Paradise
Today its time to say goodbye to the wonderful paradise of Mexico. After a final breakfast together we make our way to the airport, carrying in our hearts all the wonderful impressions, the bond with our heart family and the invigorating energies that we have experienced on this journey, home!
Contribution: 2.200 € (Early Bird price 'til 31. October 2020) – after 2.500 €
(please check the equivalent in USD according to the actual rate)
If you enroll with a friend/partner, the price will be reduced by 100 € each!

Upon registration a deposit of 500 € is due, which will be retained if you decide not to participate. To register, please download and fill out the form below and send it to me via Email. If you have questions beforehand please don't hesitate to contact me! I am happy to write, talk, skype etc. with you!
Registration Soul Expansion 2021
The contribution includes: Accommodation in a double room (in comfortable middle class hotels) incl. breakfast for all overnight stays at the Hotel Macanche ', all transports, all ceremonies as well as entrance fees for all sacred sites.
Not included in the contribution are: flights, meals (other than breakfast at Hotel Macanche), healing sessions and tips.
Number of participants: The journey takes place in a group from 8 to 15 participants.
Inquiries and registration: Sarah Gress * 0049 – 221 – 300 85 340 * channeling (at) hotmail.de
Arrival & Departure: Still to be announced.

If you would like to have a single room please ask me about it! At an extra cost there is an option of booking a single room!
Comments from recent participants:
* Sarah Gress is a healer, leader, advocate, friend, and so much more. She has a sacred talent of knowing what the soul needs and truly sees people. She creates journeys like the one I attended, that are full to the brim of meaning. Not a vacation, no gimmicks, a JOURNEY. A journey into your self, into others and closer to mother earth. I've never been out of country till the journey I attended with Sarah, and I couldn't have felt more safe and cared for. She also has a talent for finding the most magnificent humans and placing them in front of those who need them most. If you want to heal, expand, learn or grow… You are in the right place with Sarah.
– Hayley Grow

* This year I took part in a spiritual journey in Mexico, which was about traditional midwifery and shamanism. These 2 weeks have changed a lot in my life. Not only did I learn a lot about the midwifery work of the Mayans, but also a lot about myself. My father is very sick right now and the world is upside down because of the Corona Pandemic. Thanks to the time in Mexico with Sarah and the other great women, I can be strong for my family and still take care of myself. I have gained a lot of new life energy and learned to really love myself as a woman. By chance I took part in the trip and could not imagine anything at all. Also financially it was not easy for me to pay the costs. I can't believe my luck, what experiences I was allowed to gain and you can't pay that with any money in the world. Thank you, Sarah!
– Marissa Manz
* Sarah guides her groups on a pilgrimage to the heart. The way she organizes her journeys has the participants feeling held and safe, yet open the the magic that offers itself in each step of the way. She offers the perfect alchemy of physical and spiritual knowledge, leaving all the participants, from the doctors to the seekers, feeling satiated and alive. All the participants in my group, including myself, experienced significant positive transformation on our journey, and Sarah created the ripe environment for this to take place. I am deeply grateful for the way this trip changed my life, and all the gifts Sarah has given me to help me become a better and brighter person. If you seek healing, wisdom and growth, within a well held and loving container, this trip is for you.
– Sara Emmitt

*
Eligibility and agreement:
This trip is part of a private travel community. Accordingly, each participant assumes responsibility for her/himself in the sense that she/he is viewing the trip as a private trip as organized by her/himself. For this reason, liability claims are excluded to the organizer / leader of the trip. The organizer / leader commits to doing his best for a good and smooth travel when preparing and executing this trip.
 *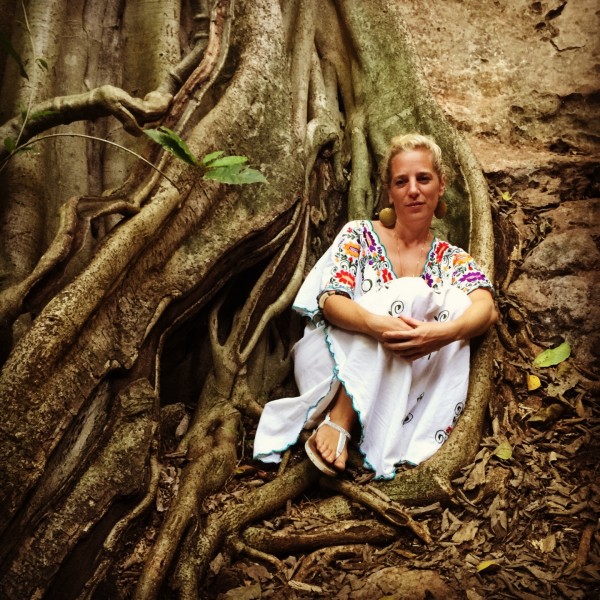 In Lak'ech ala K'in
(I am another you – you are another I)